Staff Pick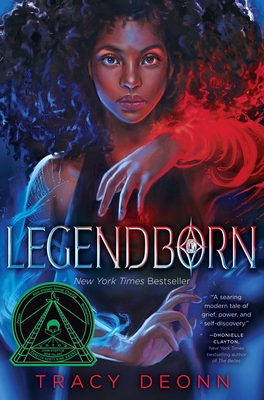 Legendborn (The Legendborn Cycle #1)
Publication Date:
September 15th, 2020
Publisher:
Margaret K. McElderry Books
Blytheville Book Company
1 on hand, as of Nov 24 4:27pm
On Our Shelves Now
Staff Reviews
One of the best books I've ever read!
— Mulandra
This book showed up at the perfect time. It addresses many things that we as Americans have not discussed. Weaving the Arthurian legend with Black southern folklore make this a magical and unique book on so many levels. All the emotions and experiences that Briana goes through are so relevant and timely. I was totally transported and enthralled with this book, which is going to make waves in the fantasy community. Much needed waves. Kudos to Tracy Deonn for writing such a fantastic piece of fiction.
Fall 2020 Kids Indie Next List
Description
An Instant New York Times Bestseller!
Winner of the Coretta Scott King - John Steptoe for New Talent Author Award
Filled with mystery and an intriguingly rich magic system, Tracy Deonn's YA contemporary fantasy Legendborn offers the dark allure of City of Bones with a modern-day twist on a classic legend and a lot of Southern Black Girl Magic.
After her mother dies in an accident, sixteen-year-old Bree Matthews wants nothing to do with her family memories or childhood home. A residential program for bright high schoolers at UNC–Chapel Hill seems like the perfect escape—until Bree witnesses a magical attack her very first night on campus.
A flying demon feeding on human energies.
A secret society of so called "Legendborn" students that hunt the creatures down.
And a mysterious teenage mage who calls himself a "Merlin" and who attempts—and fails—to wipe Bree's memory of everything she saw.
The mage's failure unlocks Bree's own unique magic and a buried memory with a hidden connection: the night her mother died, another Merlin was at the hospital. Now that Bree knows there's more to her mother's death than what's on the police report, she'll do whatever it takes to find out the truth, even if that means infiltrating the Legendborn as one of their initiates.
She recruits Nick, a self-exiled Legendborn with his own grudge against the group, and their reluctant partnership pulls them deeper into the society's secrets—and closer to each other. But when the Legendborn reveal themselves as the descendants of King Arthur's knights and explain that a magical war is coming, Bree has to decide how far she'll go for the truth and whether she should use her magic to take the society down—or join the fight.
Praise for Legendborn (The Legendborn Cycle #1)
"A King Arthur reimagining that adds seats to the roundtable, inviting new readers to find themselves within its lore, Tracy Deonn's Legendborn braids southern folk traditions and Black Girl Magic into a searing modern tale of grief, power, and self-discovery." 
— Dhonielle Clayton, New York Times bestselling author of The Belles
"Legendborn is an enthralling, standout modern fantasy about history and power, and Deonn is an author to watch."
— Kiersten White, New York Times bestselling author
"Legendborn is intoxicating, electrifying, and resonates with a deep understanding and vulnerable adoration of what it is to be a Black girl searching for the magic of herself. Tracy Deonn captivates you from page one with her perfect pacing, exhilarating plotting, and a command of storytelling that cannot be ignored. This book will hold everything you are hostage until, page by page, you discover how it has actually set you free." 
— LL McKinney, author of the critically acclaimed Nightmare-Verse series
"Legendborn is a thrilling and tense fantasy that weaves Arthurian adventure with southern Black culture into a story that had me shouting. It will hook readers from the very beginning and leave them breathless until the final, mind-blowing revelation."
— Kwame Mbalia, New York Times bestselling author of the Tristan Strong series.
"Perfect for fans of Cassandra Clare and Kiersten White, Tracy Deonn's unique reimagining of Arthurian legend is full of magic and heart. A brilliant debut!"
— Ashley Poston, National Best-Selling Author of Geekerella
 "Legendborn is a remarkable debut that should firmly place Tracy Deonn on every fantasy and contemporary YA reader's radar. Deft and insightful blending of Arthurian legend and Southern Black American history make for an engrossing tale of mystery, romance, and finding your place in the world?—an absolute must-read!"  
— Alyssa Cole, award-winning romance author
Sixteen-year-old Black whiz kid Bree Matthews battles grief and demonic forces on her college campus.
After her mother dies in an accident, Bree begins a residential program for enterprising teens at her mother's alma mater and, soon after her arrival, witnesses a magical attack that triggers hidden memories about the evening her mother was killed. Haunted by the fact that their final conversation was an argument, Bree begins a redemptive quest to uncover the connection between her mother's death and the university's secret society, the Order of the Round Table, joining their ranks as an initiate and unwittingly stumbling into a centuries-old supernatural war. While competing in the tournament that determines entry to the society, Bree discovers the truth about her heretofore unknown magical abilities, unwinding a complex history that showcases the horrors chattel slavery in the American South perpetuates on the descendants of all involved. Push through clunky expositions and choppy transitions that interrupt the cohesion of the text to discover solid character development that brings forward contemporary, thoughtful engagement with the representation, or lack thereof, of race in canonical Arthurian lore and mythologies. Representation of actualized, strong queer characters is organic, not forced, and so are textual conversations around emotional wellness and intergenerational trauma. Well-crafted allusions to established legends and other literary works are delightful easter eggs.
Don't look over sea or under stone, this is the fantasy novel for all once and future fans of suspense-filled storytelling. (author's note) (Fantasy. 14-18)
— Kirkus Reviews
*DEONN, Tracy. Legendborn. 512p. S. & S./Simon Pulse. Sept. 2020. Tr $18.99. ISBN 9781534441606.
Gr 8 Up–In Deonn's rich and explosive debut, readers are introduced to a meticulously-built world of magic with roots in Arthurian legend and traditions of the African American South. After her mother's death, Bree enters an Early College program, despite still processing her grief. It's not long before she's pulled into a secret society, and is pushed by circumstance into dangerous tournaments to go from Page to Squire all while watching her back for the demons who would kill her. This book discusses pertinent topics such as institutional racism, intergenerational trauma, and feminism with grace and a natural, unforced style. Readers will delight in a delicious love triangle that promises to get more delectable with a sequel. Though heavy at times with exposition, the novel provides plenty of scenes rife with action and emotion. Deonn pulls off a surprise ending that will urge readers to start from the beginning, to collect the clues laid along the way. ­VERDICT A promising series debut perfect for fans of Cassandra Clare's City of Bones and Maggie Stiefvater's The Raven Boys. This book underscores the movement for more inclusive versions of traditional Western narratives, and will be a favorite of contemporary fantasy readers. Highly recommended.–Abby Hargreaves, DC P.L.
— School Library Journal STARRED REVIEW
The African diaspora blends with Arthurian legend in Deonn's dynamic YA fantasy debut, reminiscent of City of Bones. On her first two nights at the University of North Carolina's Early College program, 16-year-old Bree Matthews, who is Black, witnesses otherworldly demonic attacks that most other students can't see. When a strong mage's attempt to alter Bree's memories fails, she recovers the recent events alongside a brief recollection from the night of her mother's death, three months prior—a fragment that she realizes another mesmerist sought to hide. Convinced the campus incidents have something to do with her mom's sudden end, Bree persuades peer mentor Nick to help her infiltrate the magical Order of the Round Table, the historically white, deeply racist secret society that he was born into, and which is committed to hunting the demons. Bree struggles as the Order's sole Black member and page, but outside Black female practitioners offer help via a different means of magic, and Bree must decide which path will give her the most answers about both her mother and herself. Though hazy exposition initially slows the narrative, Deonn adeptly employs the haunting history of the American South ("the low buzzing sound of exclusion") to explore themes of ancestral pain, grief, and love, balancing them with stimulating worldbuilding and multiple thrilling plot twists. Ages 14–up. Agent: Penny Moore, Aevitas Creative. (Sept.)
— Publishers Weekly